EasyPledge Tutorials:
Participant Profile
Once you are logged into your profile, there are many useful areas to personalize your page and to collect pledges!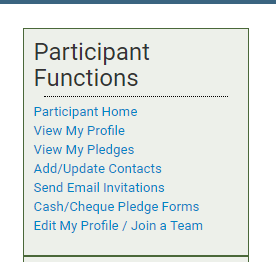 Participant Home - This will show you an overview of your profile including your goal and how close you are to achieving it. You can also find your personalized fundraising link here to easily share to your email, social media, etc to collect pledges.
View My Profile - See your profile how it appears to others.
View My Pledges - See who has sponsored your Hike.
Add/Update Contacts - You can email for support right from within EasyPledge! You can add contacts emails one at a time ('Add a contact') or, NEW this year, you can add multiple contacts from copying and pasting email from your personal email ('Add/Paste Multiple Contacts'), or you can Import Contacts using MS Excel if you keep contacts in a spreadsheet.
Send Email Invitations - For your convenience, a draft email is already to go to ask your networks for support! It will include your personalized pledge link and some information of how their support will make a difference. You are able to add personal touches to this email if you wish too!
Cash/Cheque Pledge Forms - If you receive a cash or cheque donation (we recommend avoiding the handling of money as much as possible!) you can manually add them to your fundraising total here.
Edit My Profile/Join A Team - Make changes to your profile including changing your password, adding a profile photo and adding a personal note of why you are participating in your Hike. When you ask for support through your fundraising link, your contacts will see this information.
Registering as an individual or with a team:
Creating a Participant Profile:
How to Sponsor/Support a Participant:
How to Spread the Word and Ask for Support: