↑Click to sign up!

Hike Your Way – virtually, anywhere.
The 18th Annual Hike for Hospice starts this Sunday!
Join us for the Opening Ceremony!
Premiering on YouTube at 10am Sunday, September 13th. It will be shared on Facebook and will be accessible at all times after the premiere. Here is the link to the Opening Ceremony.
~DON'T FORGET YOUR STONE!~
Stay connected throughout the week!
Our Hike for Hospice Facebook page and EasyPledge Resources Page will be the epicenter of activity for the week of September 13-19th. We hope you will participate and engage with us online, we miss having the oportunity to see you in person!
Here is a sneak peek of the week's activities: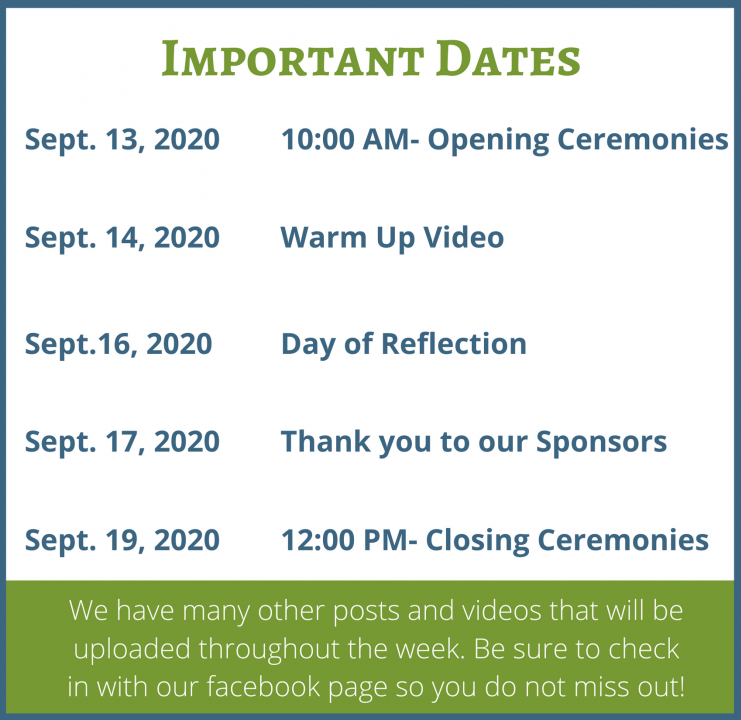 There are still Kits available for pick up. Please email aoreilly@hospicepeterborough.org to set up a time!
*while supplies last.
Click to support a Hiker/Team today!
Gather a team to support end of life care, life-threatening illness, and bereavement in our community, virtually!
Like the rest of the world, Hike for Hospice looks a little bit different. This year we hope you will participate in our week long, self-led event, with opportunities to connect with other participants and Hospice staff through our Hike for Hospice Facebook page. Please follow us for stories, videos, photos, and fun!
Hike Kits: In lieu of t-shirts this year we will be distributing Hike Kits containing goodies, information, and a stone for the ceremony. Pick-ups will take place September 9th and 10th from 3-6pm. While supplies last.
Throughout COVID-19 Hospice Peterborough has continued to offer care and support to our residents, clients, and their families. This has not been without unexpected costs including Personal Protective Equipment, new technologies and equipment, and cleaning and sanitization supplies. More than ever, we need your support to continue to offer the 26+ programs and services offered by Hospice Peterborough at no charge to the recipient. This is where you can help!
We couldn't do it without our HIKERS, VOLUNTEERS and SPONSORS. Thank you!
100% of the funds raised stay in your community!
Who are you hiking for?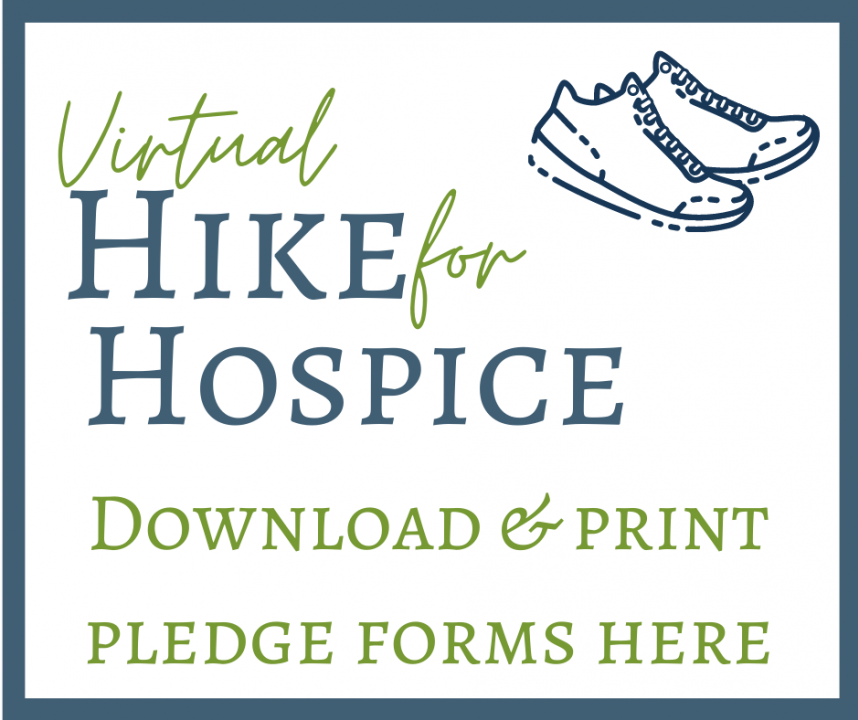 | | |
| --- | --- |
| Our goal: | $35,000.00 |
| Total raised this year: | $39,300.00 |

We are at 112.3% of our goal!

Community Leader Board

Participants

| | |
| --- | --- |
| Participant | Amount |
| Stacey Cruise | $5000.00 |
| Hajni Hos | $2250.00 |
| Aimee O'Reilly | $1645.00 |
| Angela VandenBroek | $1540.00 |
| Alexa Chambers | $1220.00 |
| Shelley Barrie | $1100.00 |
| Michele Kadwell-Chalmers | $1015.00 |
| Meghan McDougall | $1000.00 |
| Diane Topping | $990.00 |
| Sheila Crook | $900.00 |
| Mary Blair | $875.00 |
| alison casey | $800.00 |
| Margaret Hambly | $745.00 |
| Susan Pettersone | $700.00 |
| Sandy Johnston | $650.00 |
| Bill Lockington | $625.00 |
| Karen Auger | $600.00 |
| Heather Drysdale | $600.00 |
| Barbara Faubert | $575.00 |
| Kris Hickey | $550.00 |

Top Teams

| | |
| --- | --- |
| Team | Amount |
| Tecasy Trekkers | $8170.00 |
| Team Heart and Sole | $8145.00 |
| Team Boardwalk | $4725.00 |
| Blazing Sevens - Lenore's Lucky | $3000.00 |
| Compassionate Crew (Hospice Ptbo Volunteers) | $1865.00 |
| Summer Breeze | $1315.00 |
| Art's Angels | $1245.00 |
| Team ConMan | $1100.00 |
| LLF Slaves of Justice | $700.00 |
| Township of Selwyn | $550.00 |
| Team Big Jim | $545.00 |
| Paddy's Paddlers | $425.00 |
| Kathy's Krusaders | $400.00 |
| GetYourSpakleOn | $345.00 |
| Team Medigas | $200.00 |
| Kawartha Lakes Construction | $100.00 |
| Team Archie | $100.00 |
| Team Triple F (Foofie's Family & Friends) | $100.00 |